Seminyak is a mixed tourist residential area on the west coast of Bali, just north of Kuta and Legian area.
Originally a separate township, this is now another suburb of Kuta. This area is very popular and plenty of luxury spas and hotels abound. Owing to its high density of high-end shopping, combined with the clustering of many fine eating establishments, it has rapidly become one of the most well-known tourist areas on the island.
One of the main reasons to come to Seminyak is to enjoy not only the beach but also the amazing beach bars and cafes that run along the coastlines and you will find a huge number of choices available which means that you will never go hungry or thirsty here. Many of the restaurants have foreign chefs in residence so if you want to try some fine dining then this is a great place to do it.
People also flock to Seminyak for its nightlife although it is a little tamer than neighboring Kuta. Whereas Kuta has a number of nightclubs, Seminyak is more focused on beach clubs where you can sip a drink with your feet in the sand, although there are also some clubs to be found in the area. As if all that wasn't enough, Seminyak is also known for its shopping with some of the biggest names in Bali choosing to open up shop here. As such, you can walk along the main shopping arteries of this part of the island and shop until you drop.
Below are the recommendation for you to enjoy Seminyak :
1. Spend the day by the pool at Potato Head Beach Club
Potato Head Beach Club is one of the premium venues in Seminyak and has a large infinity pool and beach front covered in bean bags and sun loungers.
It is the perfect place to come if you fancy a lazy day in Seminyak and you can also rent one of the cabanas here and stay all day sipping on cocktails and enjoying some of the poolside cuisine.
If you want a cabana you will have to get here early as many of them are snapped up by 10 am, and some of the signature nibbles here include tapas and huge cheese and meat platters.
There are also three restaurants here if you want some formal dining in the form of the Potato Head Bistro, Lilin which serves Asian fusion food, and Tapping Shoes which is a French take on upscale dining.
2. Cocktails with a saltwater pool – Mrs Sippy Bali
How about chilling on dreamy daybeds by the island's largest saltwater swimming pool? Head over to Mrs Sippy Bali – an open-air club that has the right cool vibe.
Cocktails and a refreshing dip in crystal clear water is the way to spend your lazy afternoon. After all, you're on a vacation! If you are feeling peckish yet want to maintain your bikini bod, opt for a fresh and healthy salad bowl.
For those who are seeking some adrenaline rush, you can't miss the triple-tier dive tower. Dare to jump from the tallest one?
When the sun goes down, the place turns into a wild venue hosting famous DJs. Get a glass of Sippy Tiki cocktail concocted from white rum, sparkling wine, fresh raspberry, passion fruit, lime, red bull and grapefruit. Time to party!
3. Dine in a living art gallery – Batik Restaurant
Ever wanted to learn about batik culture in a fun and interactive way? How about dining in a batik-filled restaurant that comes with mini batik tours?
Photo via Baliinteriors
Here, the interior is decorated with both historical and modern elements, with batik in every corner, designed to educate diners about the cultural heritage of batik and its uses.
Photo via Diahmaharini
And of course, tasting local cuisine is a form of appreciation of local culture, so how can you not come for lunch or dinner? Time to try something a little more exotic – Rawon Sapi ala Batik (black beef soup with turnip, lemongrass and ginger), under the lovely lanterns!
Photo via Takenbyliamneeson, Soulsurf_sally, Jjjing__, Thefoodmaestro
After your meal, take your time to admire the traditional art all around you. Upon request, the staff will take you on a mini tour to show you all the various steps of batik-making, from waxing to dyeing.
Notice the batik stairs that show the 23 Indonesian centres of batik production!
4. Try scuba diving
If you are in Seminyak and want to get PADI certified then consider a trip to Adventure Scuba Diving Bali.
This Seminyak based diving school will teach you how to dive safely, or if you are already an experienced diver you can also sign up for a dive trip with them.
There is no diving in Seminyak itself but there are a range of dive spots just a short boat ride away so you can hop onboard and enjoy the underwater delights that Bali is famous for.
5. Enjoy the simple life – Nook Bali
Photo via leamichella
Or, if you just want to get in touch with the real world and have a relaxing time, head down to Nook Bali. This simple, rustic cafe is located between rice fields, and will offer you the precious experience of dining while surrounded by gorgeous views of greenery.
Photo via xyenbeingx
Photo via: nook
Better yet, the food is incredibly affordable – try out traditional Balinese food such as Nasi Mix, or Western dishes like Quinoa and Kale Breakfast Bowl!
6. Go horse riding
One of the most popular activities to enjoy on Seminyak Beach is the chance to go horse riding.
Trips along the beach usually take two hours to complete and you can ride along the beach from Seminyak to Canggu.
Each rider is assigned a horse and you will have professional guides to lead you along the sand to make sure that you can enjoy the ocean views in a safe and serene way.
This is also a great choice for those travelling with a family as children are welcome and there are a variety of ponies to choose from.
7. Go surfing at Seminyak Beach
Seminyak Beach is a lovely spot of golden sand and always feels less crowded than Kuta, even though it is equally popular.
The waves here provide some surfing opportunities although the surf can be a little inconsistent and this is also a good place to go swimming.
If you prefer, you can rent a sun lounger and just take in the atmosphere and there are a huge number of stalls here that will happily sell you some ice cold beer or a soft drink as the perfect complement to the spectacular Balinese sunsets.
8. Admire Pura Petitenget
One of the only real 'attractions' in Seminyak as such is Pura Petitenget which is one of six important sea temples in Bali.
The temples line the coast from Pura Luhur Ulu Watu which is on the Bukit Peninsula and stretch to the most famous temple in Bali which is Pura Tanah Lot in the west of the island.
Petitenget means 'magic box' and this is a reference to a magic box owned by a priest called Nirartha who would have lived in the 16th century.
The priest regularly visited the temple which is why it was named after the magic box.
9. Have a chill party with your best mates – La Favela
Photo via: paulathomson
Are wild parties more appealing to you? Don't miss out on La Favela, a tropical-themed restaurant by day, and festive bar by night.
Photo via: Herna J C Pardede
Photo via: helloravinda
With its unique themes that change daily and wide variety of food and drinks, La Favela is a great place to hang out and have fun with your mates. The intoxicating party atmosphere here is sure to get you grooving away before the night is over!
10. Spend the evening at Ku De Ta
Ku De Ta is one of the most popular places in Seminyak and is a large beachfront bar which has some great views over the ocean.
They do a wonderful range of specialty cocktails and you can rent a lounger or sit on a bean bag on the beach and take in the scenery.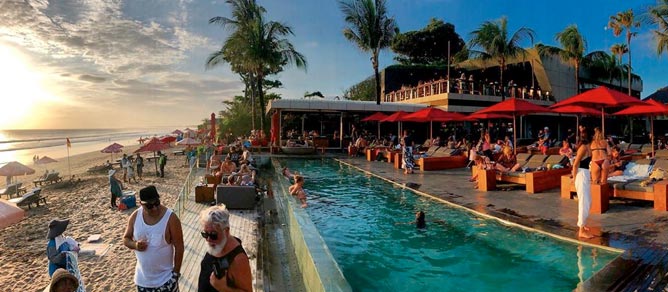 There is also a resident DJ here that keeps the party going in the evenings and an onsite restaurant where you can order some bar snacks or a full meal.
11. Relax at Seminyak Yoga Shala
Bali is famous for its yoga and Seminyak is no exception.
New on the yoga scene here is Seminyak Yoga Shala which is located on the central artery of Jalan Seminyak and also has a raw food cafe onsite.
There are a range of different classes you can take every day that will suit a variety of levels of ability and you can also try different types of yoga such as Ashtanga and Mysore and there are also Qi Gong and Tai Chi classes available here.
If you want to de-stress and unwind you can buy a day pass or sign up for a longer course of yoga if you are in town for a while.
12. Go on an Indiana Jones-esque adventure – Totem Room Escape Bali
Why play Indiana Jones video games at home when you can actually be the guy in real life?
Step into your adventurer boots at Totem Room Escape, the first and largest room escape game in Indonesia. Here, you and your friends (minimum 2 persons) will be locked in a room and experience a thrilling adventure, as you race against the clock to solve puzzles and find a way out!
This is not just some role-playing game, okay. This is serious business.
Or at least they make you feel like it is – the (jail)room is decorated in all sorts of lifelike ways.
Photo via Totem Room Escape Bali
From the tomb of the Egyptian pharaoh to the high-tech vault in Mission Impossible – it's indeed Mission Impossible to differentiate between reality and fiction! You can also wear costumes to immerse yourself fully into the game.
Doesn't it sound exciting? This is no doubt the best way to test your intelligence – without Google and faced with a ticking clock, can you make it out alive?
Photo via Totem Room Escape Bali
Tip: Given the limited amount of space, you'll want to make a reservation in advance by phone or the website.
13. Have an exotic pampering session – Prana Spa
Being one of the largest and best spas in Bali, Prana has all you'll ever need for the ultimate relaxation – from heated stone massages for one, or even lavish hen parties.
Boasting exotic surroundings oozing exquisite luxury, Prana combines the best of Indian and Moroccan architecture and design.
Tented ceilings or finely detailed hand painted canvases may be the first thing you see as you step into your room. Treatment rooms are done up so you feel like you're entering a whole new world as you luxuriate in the spa experience.
If you're not sure which treatment to choose, how about the highly recommended Simple Bliss Ayurvedic Treatment. Using custom blended essential oils, this full body massage will ensure you get pampered from the top of your head, to the bottom of your feet.
There are many other treatments to choose from with spectacular names such as Mystique of Bali, and Divine Unity. So you can be sure to find something absolutely perfect for your needs!
14. Hungry go where? Food hunting at Jalan Laksamana
The notably famous Eat Street, also known as Jalan Laksamana is the one place you should go to for all the best food in Bali.
Along delightful Jalan Laksamana, there is a particular cafe specially for food-loving romantics, and the occasional wedding ceremonies!
Enter The Corner House – serving up delicious coffee and quiches in a quaint building decorated with vintage decor and jars of fresh wildflowers!
Best for brunches, The Corner House also provides a great setting for your favourite type of instagram shots – a combination of great decor, and both prettily-plated and delicious food.
Photo via: xxlaurentan
For those who are a fan of European ambience, you would definitely want to check out The Bistrot too!
Photo via: Bali Pixtura
With its bare brick walls and black basalt stone flooring, coupled with cushy sofas and an abundance of vintage furniture, doesn't it inject a warm, homey feeling to the industrial setting?
Bistrot is original, quirky, delicious, and whimsical – charming by day and glamorous by night.
15. Enjoy Double Six Beach
Double Six Beach is also known as Blue Ocean Beach and is actually a smaller part of the wider Seminyak Beach.
Double Six Beach is notable however thanks to its pristine white sands and backs on to a range of bars and restaurants.
If you want to find the nicest patch of sand in Seminyak then this is probably it, and you can sit on a bean bag with a cocktail and enjoy the sunset.
---
You should not be worried how about the accomodation to get there or to stay there.
We provide you the best services for accomodation and transportation option to enjoy your days in this beautiful island.
So, Let's holiday with Si Petualang!