While you have landed in Bali, or you just have plan to visit Bali, you shouldn't be worried if your days will only be fulfilled by taking a look at a lot of beautiful places here, but you can do some activities also to makes you more energized!
Below we recommend you some activities that might be suitable with your travel style, just pick some (or all) and let's holiday with Si Petualang!
1. Indulge in a Myriad of Thrilling Activities at Kintamani
Sitting at the base of Mount Batur, Kintamani is the highest point reaching up to 5,633 ft/1716 m where travellers can't seem to quit climbing. Reaching the top, it is the mesmerising view of the sunrise over Lake Batur which does justification to the hiking. The climb is doable in two to four hours depending on your fitness level. If hiking is not what you look for, Kintamani has covered you with other thrilling activities including bike and cycle tour, ATV ride for a sightseeing tour, kayaking, canoeing. At the hot springs you can soak your sore muscles and feel relaxed. Also, you can even make your dream of a helicopter flight come true that will give you a breathtaking view of the iconic Tanah Lot Temple and the rugged terrain of Kintamani area.
2. Surfing at Kuta Beach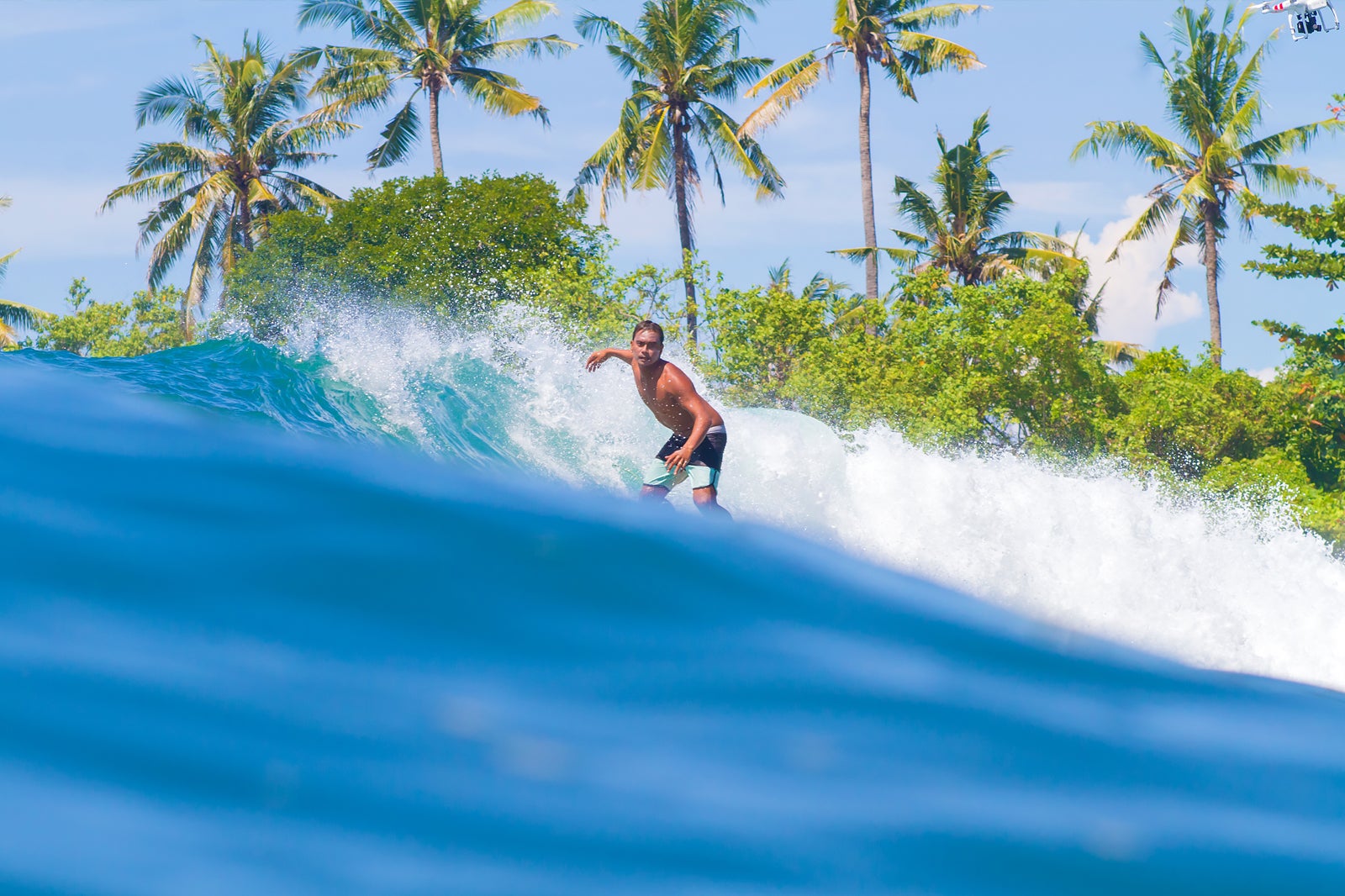 Surfing is the sport that led to the rise of Kuta as Bali's most famous beach. Vagabond wave riders from around the globe continue to search for the perfect waves all over Bali's coastline, from the challenging barrels around the Bukit Peninsula to the black-sand beach breaks of the island's western and eastern shores.
Surfing in Bali comes in many forms beyond the normal short and longboards. Bodyboarding or 'boogie boarding' is another way to ride the waves, while challenging forms include windsurfing, kitesurfing and wakeboarding. Beginner's courses, rentals and tours are available from various operators in Kuta, Sanur and the Tanjung Benoa peninsula.
3. Spend Time Playing With Monkeys at Ubud Monkey Forest
Also known as Sacred Monkey Forest Sanctuary, the forest is one of the top tourist attractions especially for the monkey lovers and photographers. It is one of the top attractions in this tourist town and a must-see for animal lovers and photographers. Even though the grey long-tailed macaques are the centre of attraction but the evocative jungle setting is too alluring where these monkeys are seen to be roaming carefree. A visit to Ubud Monkey Forest will not just let you play with the notorious monkeys but also explore other points of tourist interests like the three temples of Pura Dalem Agung; Pura Beji Temple; and Pura Prajapati Temple. You can also witness the aesthetic art and culture by visiting Agung Rai Museum of Art and Blanco Renaissance Museum.
4. Buy Some Prettiest Souvenirs or Gifts in Mas
Perhaps one of the most interesting parts of visiting a new place is buying things that you can take home as souvenirs or gifts. When it is about shopping in Bali, there are many places where you can get the best things to take back home. Of all, Mas is one such destination that boasts of intricate wood carvings like beautiful wooden boxes, showpieces, statues and more. On visiting the place, I would recommend you to buy a hand-carved wooden mask that represents the Balinese culture. The famous spots in Mas to buy the prettiest souvenirs and gifts are Nyana & Tilem Gallery and I.B Sutarja Mask Carver Gallery.
5. Take a Dip in the Holy Waters of Tirta Empul Temple
If you are planning for family holidays in Bali, then Tirta Empul Temple is a place not to be missed. Located in the village of Manukaya, near the town of Tampaksiring, Tirta Empul Temple is one of the top tourist attractions in Bali that features pools that are filled with fountains. The water here is believed to be sacred and worshippers and tourists from all over the world come to marvel at the beauty of the place and bathe in the holy springs of Tirta Empul.
6. Take a Tour and Relish Some Delicious Bites at Pod Chocolate Factory
The thought of Chocolate may not appear in your mind when you think about Bali but the Indonesian destination is one of the top producers of cocoa in the world. And so for a unique experience in Bali, head to the Pod Chocolate Factory which is yet another place of interest. You and your kids can relish some delicious bites and also learn about how cocoa is grown, harvested. Your kids will have the chance to also learn how tempting chocolates are made. As you indulge in a chocolate tour you can buy some of the delicious treats as a souvenir of your trip.
7. Get the Best Nightlife Experience at Kuta Beach
For night party lovers, there can be no better place than Kuta Beach in Bali. Home to entertainment venues, upscale bars and pubs and relaxing cafes, Kuta Beach offers a great party experience to those looking for fun night-time diversion. The party scenes at Kuta Beach keep going till early morning and it is more about grabbing a drink and meeting new people. Jalan Kartika Plaza and the main beach street of Jalan Pantai Kuta are the two great spots where Kuta nightlife scene comes alive. Sky Garden Bali, Bounty Discotheque, Engine Room, Paddy's Pub are some other places where one can make the most of night party in Kuta.
8. Enjoy Wreck Diving at Tulamben
The beaches of Bali are a beauty but there is more than what meets the eye. There are many beaches where adventure junkies can dive in but for those who wish to try wreck diving need to come to Tulamben. Home to beautiful coral and exotic fish species, Tulamben is best for underwater photography, as one can capture the best shot of rare marine life. The main diving site of Tulamben is USAT Liberty shipwreck which draws the attention of many divers from across the world. Among the corals, you can expect regular sightings of sea turtles, parrotfish, cod and more. The other diving spots in Tulamben include Boga Shipwreck, Suci Palace and Tulamben Beach.
9. Enjoy Safari at Bali Marine and Safari Park
Yet another attraction for kids, Bali Marine and Safari Park offers a fun day out when holidaying in Bali. It is one of the island's largest and most visited theme parks which has a collection of best flora and fauna in Indonesia. On visiting the park, you will be greeted with approx 60 different species of animals roaming freely in their natural habitat. Enjoy a bus safari ride, watch elephant talent shows, cuddle with baby orangutans and more. Also, you can have a blast with your children at the adjacent water and amusement park. In addition to this, there are dance and musical shows taking place in the complex throughout the day which are fun to watch.
10. Relish Traditional Balinese Food at Warung Blanjong
If you are in Bali and looking to savour Balinese Food, then head to Warung Blanjong in Sanur. Bali has a variety of delicious local specialities that you would hardly find anywhere else in Indonesia. So why not spend some time savouring the real Balinese Food around the island. Of all the other places, I would recommend you to head to Warung Blanjong in Sanur. Being one of the best places to try the local bites, Warung Blanjong offers dishes like Siap Betutu, roasted chicken with local herbs, and Pepes Be Pasih, a fish dish wrapped in banana leaves and Siap Base Kalas, chicken in lemongrass sauce and spices. The restaurant also serves international dishes like sandwiches, burgers, pasta and chips.
---
Those are activites thay may be interesting you,
You should not be worried how about the accomodation to get there or to stay there.
We provide you the best services for accomodation and transportation option to enjoy your days in this beautiful island.
So, Let's holiday with Si Petualang!